EU Fundamental Rights Agency and Council of Europe launch handbook on Child Rights


Vienna/Strasbourg, 20 November 2015


Child rights in European law: new practical guide from the EU Fundamental Rights Agency and the Council of Europe

On the occasion of Universal Children's Day, the European Union Agency for Fundamental Rights (FRA), the Council of Europe, and the European Court of Human Rights (ECtHR), launch a handbook on European law relating to rights of the child.
"The promotion and protection of rights of the child is one of the EU's objectives. However, legal practitioners are not always familiar with European law and jurisprudence in this area," says FRA interim Director Constantinos Manolopoulos. "We are glad to offer this useful guide to assist practitioners better protect children so they can effectively enjoy their rights."


Satsa på familjehemmen - en fungerande vårdform eller Satsa på familjen - den bästa vårdformen!

Av Siv Westerberg och Ruby Harrold-Claesson
Göteborg, den 7 oktober 2015.



Jur kand, med. lic Siv Westerberg är som bekant grundare av NKMR, och jur kand Ruby Harrold-Claesson är ordf. i NKMR.

Artikeln nedan, som hade titeln "Satsa på familjen - den bästa vårdformen!", är skriven som replik på ett inlägg i DN-Åsikt 2015-09-17 med rubrik "Satsa på familjehemmen - en fungerande vårdform".

Inlägget skickades till DN-åsikt den 7 oktober 2015, efter telefonsamtal med åsiktsredaktören, Jessica Svensk. Samma dag fick vi ett e-mail:
" Hej!
Vi har en begränsning på att inläggen på DN.Åsikt ska vara runt 3000 tecken. Återkom gärna med en sådan version av repliken.
Tack på förhand.
Med vänlig hälsning,
Jessika Svensk, redaktör DN.Åsikt"

Siv Westerberg och jag bantade vår replik till 3400 tecken och skickade den tillbaka till DN-Åsikt.

Den 8 oktober 2015 fick vi ett e-mail:
"Hej,
Vi tackar nej till att publicera er replik.
Med vänlig hälsning,
Åsiktsredaktionen
Artikeln blev refuserad av DN:s åsiktsredaktör, men NKMR har sin egen hemsida, där vi kan publicera vår replik.


I DN-åsikt den 17 september 2015 finns en inlaga med rubriken "Satsa på familjehemmen – en fungerande vårdform". Den är skriven av Johan Schött som "sedan närmare tio år är verksam som jourhem och familjehem i Stockholm". Han inleder sin inlaga med uppmaningen: "Förbättra och förenkla villkoren för familjehemmen och jourhemmen så att fler familjer vågar åta sig uppdraget att ta emot ett barn eller ungdom som behöver ett hem och en familj. Ingen annan vårdform ger så bra resultat och ingen annan vårdform är mer lämpad för uppgiften." Det är dock konstaterat att fosterhemssystemet är behäftat med stora problem. I artikelserien "Ekonomisk brottslighet inom fosterhemsindustrin", den 22/6 2004, publicerade reportrarna Bo Göran Bodin och Nuri Kino på Sveriges Radios Ekoredaktion, en granskning som visar att det förekommer omfattande ekonomisk brottslighet bland dem som bedriver familjehem. Reportrarna konstaterade också att, "det är betydligt svårare att öppna en korvkiosk än ett fosterhem eller HVB-hem."


'Parents of Estonia'
has organised a three day event to take place in Tallin, Estonia, on August 23 - 25, 2015.

Keynote speaker: Ruby Harrold-Claesson, Swedish lawyer and president of 'The Nordic Committee for Human Rights - For the Protection of Family Rights in the Nordic countries', (NKMR/NCHR).



Itinerary

Lecture, August 24, 2015
Hotel Europa, Tallin, Estonia

ROUNDTABLE

The Best Interests of Children: Have they been well served in Europe?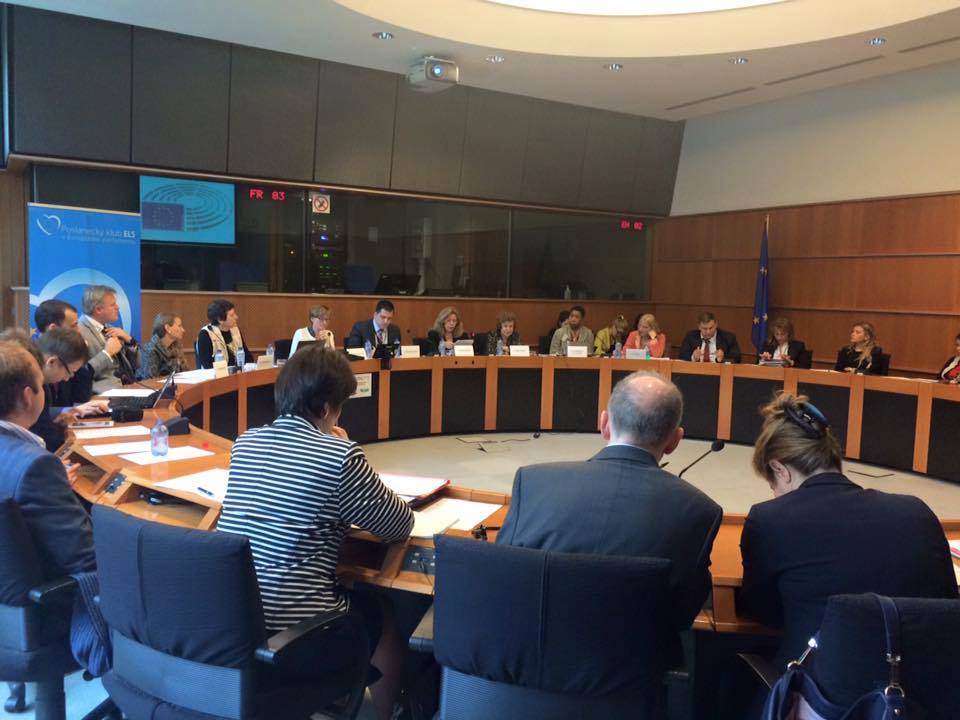 Venue: European Parliament, Brussels, June 2, 2015


The Roundtable is divided into two blocks. The first block will be between 11.00-12.00 and will focus on the child protection systems across Europe, the way they take children and the measures that should be developed to prevent this from happening.
The second block would be then from 12.00-13.00 and it will concentrate on the topic of forced adoption and the way this issue could be addressed on the European level.
The seminar and Q&A session that will be included in each block will be hosted by MEP Tomas Zdechovský and he will also sum up the outcomes of the seminar in the last 10 minutes (12.50-13.00).


When is it ok to remove a child from her or his birth family?
"Children have the right to be protected from all types of violence, abuse and neglect. But children also have the right not to be separated from their parents against their will, except when the competent authorities determine that such separation is necessary for the best interests of the child," Olga Borzova (Russia, NR) says in her report, adopted yesterday by PACE's Committee on Social Affairs, Health and Sustainable Development.

Interview following Ms Olga BORZOVA's, Russian Federation, Report to PACE, Parliamentary Assembly of the Council of Europe
January 26, 2015


Hadde barnevernet vært en bedrift som var avhengig av resultater, hadde den vært slått konkurs for lenge siden. En virksomhet må til en viss grad være resultatorientert, dersom måloppnåelse skal være mulig og man skal oppnå en ønsket utvikling. Statistikk viser dessverre at cirka 50 prosent av barn og unge som har vært i langvarige tiltak innen barnevernet, blir etter fylte 18 år langvarige brukere av NAV-tjenester.