European Union Agency for Fundamental Rights / EU:s byrå för grundläggande rättigheter

NKMR har blivit godkänd att medverka i Fundamental Rights Platform FRP vid EU:s byrå för grundläggande rättigheter
CHILDREN NOT FOR SALE - "The black hole of our Culture"
European United Left/Nordic Green Left Organises an Inter-European Conference at the E U Parliament, Thursday, June 23, 2016.
The Organisers are: Mrs KUNEVA Kostadinka (GUE/NGL-SYRIZA MEP) and
Mr HADJIGEORGIOU Takis (GUE/NGL-AKEL MEP)
The NCHR/NKMR's secretary, Mrs Elisabeth Scheffer, lawyer, is among the speakers.

VICTIMS MISSION Organises International Conference 28 May in Vienna

Vienna, Austria (pts012/23.05.2016/10:30) - The charity organisation VICTIMS MISSION invites you to the international conference "Child Abduction as Weapon of Family Destruction" to the Grand Hotel Vienna on 28 May 2016. Beate Kelly, Mag. Josef Maitz, Gerda Ressl, Cara St. Louis and Dr. Henning Witte will speak on the topic. Afterwards there will be a panel discussion. Sissi Kammerlander will give the introduction and act as moderator.

NKMR FIRAR
INTERNATIONELLA FAMILJEDAGEN
den 15 maj 2016


2016 markerar 22 års jubileum för FN:s Internationella Familje År och idag är
Internationella Familjedagen.
FN har instiftat den 15 maj som Internationella familjedagen. FN har öronmärkt denna speciella dag, varje år, för att understryka familjens betydelse för alla samhällen - inklusive våra nordiska samhällen.
Internationella Familjedagen firas runt om i världen på olika sätt.

I Sverige och våra nordiska grannländer förbigås Internationella Familjedagen med absolut möjliga tystnad.

NKMR firar Internationella Familjedagen - 2016
Petition nr 2434/2014

Presentation in the European Parliament, PETI Committee

On April 19, 2016, a delegation comprised of lawyers, Mrs Ruby Harrold- Claesson, Mrs Madeleine Johansson and Mrs Elisabeth Scheffer made a presentation and defended the Petition nr 2434/2014 before the European Parliament Petitions Committee.

The PETI Committee decided to submit the Petition to the Working Group for Children's Welfare.




Presentation - PETI - Brussels - 2016-04-19



PETI - Brussels - 19 April 2016

For more information, please see:
http://www.europarl.europa.eu/activities/committees/homeCom.do?language=EN&body=PETI
Petition nr 2434/2014 - Hearing in European Parliament, PETI Committee

The Petition No. 2434/2014 has been scheduled to be heard at the meeting of the Committee on Petitions which will take place on 19.04.2016 in Brussels.
The presentation will be heard at around 9:30 AM.

A delegation of signataries will defend our Petition at the hearing in the PETI Committee.

We are pleased to invite you to follow the Committee proceedings as a webcast via European Parliament streaming over the following link:
http://www.europarl.europa.eu/activities/committees/homeCom.do?language=EN&body=PETI, either live, or deferred as of the following day

Please see the Communication to Members of the PETI, from the European Commission regarding our petition.



European Parliament - Petition No. 2434-2014 - Commission statement

Memorial - Petition No. 2434/2014



European Court of Justice Judgment Case C-435/06



PETI Agenda 18-19 April 2016-final



Presentation - PETI - Brussels - 2016-04-19



PETI - Brussels - 19 April 2016

For more information, please see: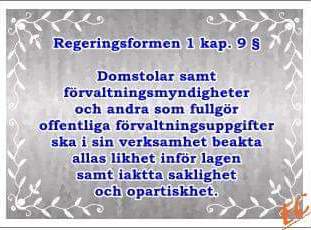 På Internationella Kvinnodagen vill NKMR hylla alla kvinnor / mödrar som har blivit utsatta for grova övergrepp av sociala myndighetspersoner, personal i förvaltningsdomstolar och / eller dito i de allmänna domstolarna, som har berövat dem deras älskade barn genom tvångsomhändertagande och fosterhemsplacering eller vårdnadsöverflyttning.

Bestämmelserna i Sveriges Grundlag, Regeringsformen 1 kap 9 § är klara och tydliga:
"Domstolar samt förvaltningsmyndigheter och andra som fullgör offentliga förvaltningsuppgifter ska i sin verksamhet beakta allas likhet inför lagen samt iaktta saklighet och opartiskhet".

Likväl begår angiven personal grova brott mot otaliga svenska kvinnor, dagligen.
SVERIGE, RÄTTSSTAT I FRITT FALL
LVU, hur det ska gå till och hur det går till.

Av Göran Grauers, ombud i LVU-mål och samhällskritiker

Jag har sedan 1997 företrätt människor i LVU ärenden och har en tämligen god inblick i hur LVU-ärenden behandlas i såväl socialtjänster som i nämnder och i domstolar och det är något som snarast påminner om det forna Östtyskland.
Jag kommer i den här artikeln att behandla först hur ett tvångsomhändertagande skall gå till och sedan beskriva med ett nu pågående ärende hur det faktiskt går till.
Att omhänderta människors barn är det största ingrepp en stat kan göra i en familj och något som måste följa alla befintliga lagar för att demokratin skall fungera, framförallt måste de följa Europakonventionen om de mänskliga rättigheter och här framförallt artikel 6.

Tysk 16-åring inlåst i Sverige
En tysk tonårspojke sitter fast i Sverige, inlåst sedan över ett år, utan att få reda på vad som skall hända honom. Den svenska kommunen där han varit vill inte ha honom och den tyska kommun som har ansvaret för honom tar inte hem honom. Ett offer i ett myndighetslimbo.
Läs mer

Dalslandsfallet - Tyskt barn rymt från tyskt barnhem i Dalsland
Europaparlamentet

Petition nr 2434/2014 - Admissiblity Decision / Beslut om sakprövning

Ordföranden i Europaparlamentets Petitionskommittén,( PETI), Cecilia Wikström, har i brev den 13 januari 2016, meddelat att Petitionen som 40 framstående nordiska jurister och andra professionella underställde för kommitténs granskning, har förklarats admissible, dvs beviljats prövningstillstånd.



Europaparlamentet - Petition No. 2434-2014 - Letter 2016-01-13



Europaparlamentet - Petition No. 2434-2014 - Brev 2016-01-13

Sammanfattning och åtgärd

Petitionen