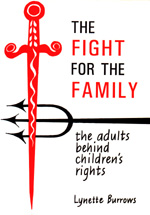 THE FIGHT FOR THE FAMILY
The Adults Behind Children's Rights
By Lynette Burrows
The campaign for children's rights represents one of the most powerful lobbies now working in the field of family welfare. Its advocates have succeeded in almost every task they have set themselves. They have out-lawed smacking in schools and given children sufficient 'rights' to make parents and teachers think twice before attempting to curb or discourage unruly behaviour.

Yet, as Lynette Burrows shows in this booklet, the children's rights lobby is a paper tiger. It consists of a small number of individuals who form front-organisations, ask each other to sit on committees, take 'evidence' from each other and publish 'reports. The movement has no popular base. Without the financial support of two grant-making trusts, and the unwitting compliance of public bodies and the media, it would collapse.
The 'rights' which interest the lobby boil down to only two: the 'right' of children to behave badly without any chastisement and the 'right' to enter into sexual relationships at any age, without the knowledge and consent of their parents. The agenda thus fits neatly with the stated aims of paedophile organisations which realised long ago that the only way to obtain access to children was to persuade professionals and campaigning organisations to demands freedom for children from any form of restraint - a policy which leaves them exposed to the predatory behaviour of those who would harm them.
FAMILY EDUCATION TRUST
322 WOODSTOCK ROAD - OXFORD OX2 7NS
Tel. 01865 556848 Fax: 01865 552774
ISBN 0 906229 14 6 Price: £4.00