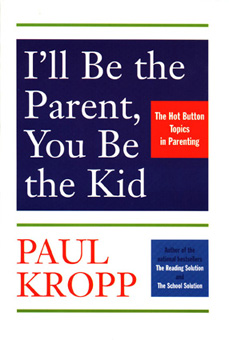 Parenting

Advance Praise for I'll Be the Parent, You Be the Kid

"The book is engagingly written, full of thought-provoking arguments. Paul Kropp, father and former teacher, clearly likes children and he's good at dealing with them. He is also alarmed by current tendencies for parents to abdicate responsibility for teaching their offspring basic values. Many of Kropp's ideas come from his own experience and intuition. What particularly impresses me about this book, however, is his willingness to move beyond that experience and to carefully consider the scientific evidence about children's development. Thoughtful study, keen insight, and an entertaining writing style combine to produce a first-rate book."

- Dr. Joan Grusec, author of Parenting and Children's Internalization of Values

Praise for The Reading Solution

"If you are a parent, you need to read this book." - Robert Munsch

"Worth its weight in gold." - Today's Parent

 

Praise for The School Solution

"This practical and straightforward guide to Canadian schools is an excellent resource that deserves space on every parent's bookshelf" - The Toronto Sun

"Excellent information for parents who have children in any grade." - The Calgary Herald

 

With the many parenting books available today, its not surprising many parents are confused by the wide range of methods, styles and quick-fix solutions being suggested. In I'll be The Parent, You Be the Kid Paul Kropp considers the most difficult issues in parenting using real-life scenarios and offers firm opinions based on the latest research. Drawing on his own experience as an educator and parent, his talks with hundreds of Canadian families and 40 years of reliable parenting research, Paul Kropp tackles such tough topics as:

• discipline and spanking

• sibling rivalry - what's "normal"?

• how much daycare is good daycare?

• the impact of television on kids and families

• the myth of quality time

 

Paid Kropp is the author of the national best-selling books The Reading Solution and The School Solution and more than thirty books for children and young adults. His work has been published in Britain and the United States as well as in Canada. Kropp is a teacher and editor and the father of five children.

 

ISBN 0-679-30920-9

$22.95

Random House of Canada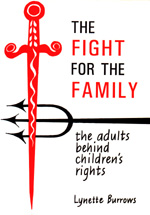 THE FIGHT FOR THE FAMILY
The Adults Behind Children's Rights
By Lynette Burrows
The campaign for children's rights represents one of the most powerful lobbies now working in the field of family welfare. Its advocates have succeeded in almost every task they have set themselves. They have out-lawed smacking in schools and given children sufficient 'rights' to make parents and teachers think twice before attempting to curb or discourage unruly behaviour.

Yet, as Lynette Burrows shows in this booklet, the children's rights lobby is a paper tiger. It consists of a small number of individuals who form front-organisations, ask each other to sit on committees, take 'evidence' from each other and publish 'reports. The movement has no popular base. Without the financial support of two grant-making trusts, and the unwitting compliance of public bodies and the media, it would collapse.
The 'rights' which interest the lobby boil down to only two: the 'right' of children to behave badly without any chastisement and the 'right' to enter into sexual relationships at any age, without the knowledge and consent of their parents. The agenda thus fits neatly with the stated aims of paedophile organisations which realised long ago that the only way to obtain access to children was to persuade professionals and campaigning organisations to demands freedom for children from any form of restraint - a policy which leaves them exposed to the predatory behaviour of those who would harm them.
FAMILY EDUCATION TRUST
322 WOODSTOCK ROAD - OXFORD OX2 7NS
Tel. 01865 556848 Fax: 01865 552774
ISBN 0 906229 14 6 Price: £4.00
SÄMRE LOTTADE
De vanartade barnens historia i Norrköping 1903 - 1925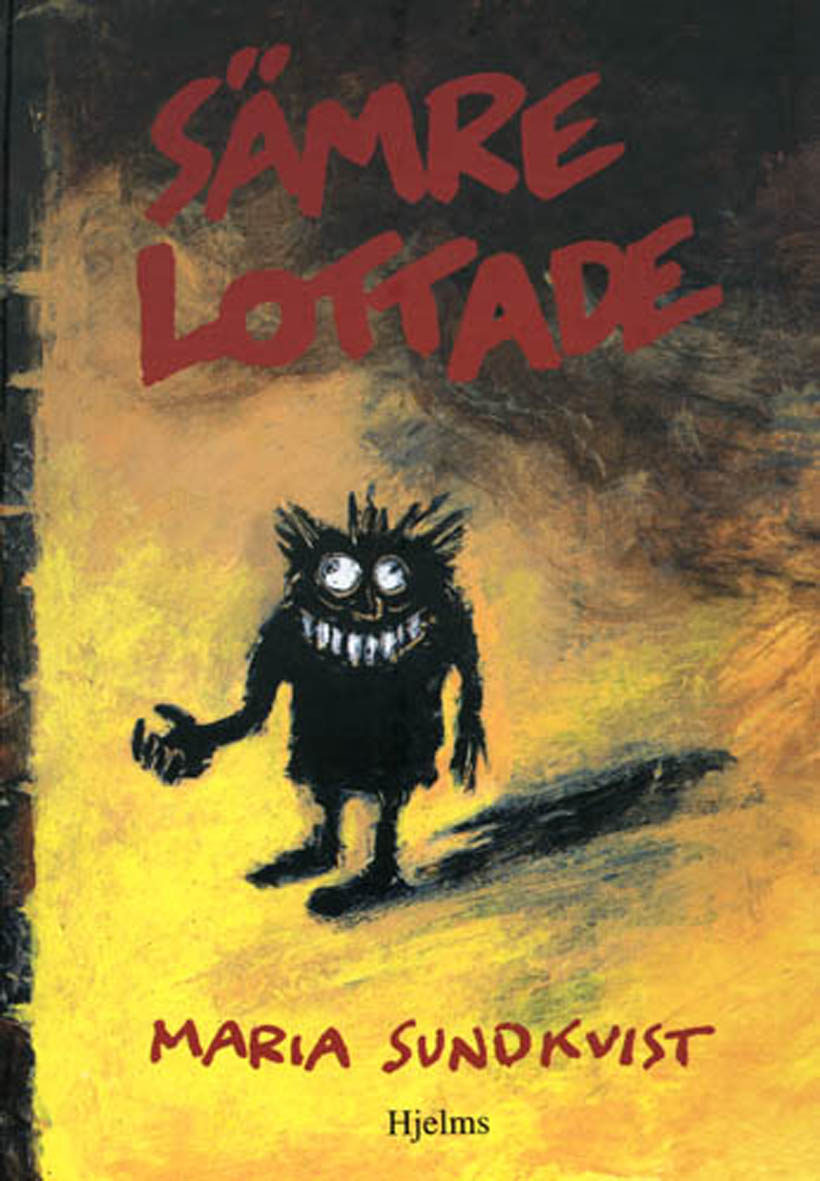 Av Maria Sundkvist
Bild: Ulf Lundkvist
I maj 1910 lämnade den trettonårige pojken Axel sin
ensamstående mamma i Norrköping och reste till sitt nya
hem, ett fosterhem på landsbygden långt från hemstaden.
Axel var en vanartad gosse, det hade barnavårdsnämnden i
Norrköping bestämt. Vad hade då Axel gjort och vad
innebar det att vara ett vanartat barn och bli skild från
hemmet av barnavårdsnämnden?
I "Sämre lottade" berättas historien om de vanartade
barnen. Vi får möta Axels olyckskamrater i sekelskiftets
Norrköping men också de damer och herrar i
barnavårdsnämnden som försökte "rädda" barnen från vad de
såg som en dålig miljö.
Boken är ett bidrag till en historieskrivning som
synliggör människor och händelser ur det förflutna som
sällan märks i historieböckerna. Här lyfts barnens
historia fram. Deras handlingar sätts i relation till de
som hade makt att bestämma över deras liv.
Ulf Lundkvists karaktäristiska teckningar samspelar med
Maria Sundkvists text till en helhet som levandegör en
viktig del av vårt gemensamma förflutna.
SÄMRE LOTTADE
©Maria Sundkvist
© Ulf Lundkvist, bild
Utgiven av Hjelm förlag, 1993
ISBN 91-87922509
 

CONFIDENT PARENTING

A Hands-on Approach to Children

by Anne Davis

 

 

Foreword

This clear, practical book cuts through the welter of theory on child-rearing to offer a common-sense approach based firmly on instinct backed up by the experience of family and friends. At a time when many parents feel uncertain in their roles confused by the advice of childcare gurus and the arguments about children's rights, it offers guidelines that will be welcomed.

The problem of undisciplined children, both at school and in the community, has become a focus of increasing concern. Anne Davis, who made national headlines when, as a child-minder, she refused to promise that she would never smack children in her care, tackles this problem head-on and argues her case convincingly. Smacking, she believes, has a place in childcare as a final sanction, so long as it is administered in the right manner and at the right time and for an appropriate misdemeanour.

The great message of this book is that children should be taught from their earliest years, by a 'gentle conditioning' process, to behave well, to respect others and to realise that they cannot always come first. With clear guidelines for the pre-school years that will instil a lifetime's habit of socially acceptable behaviour, the author aims to help parents rear children to become well-adjusted adults with an in-built sense of right and wrong.

If children do not master the basic rules in their pre-school years, they will grow up with a 'me-first' attitude whose consequences are now a daily blight on school and family life. This clear-sighted book will help parents adopt the best approach to child-rearing, and above all it will give them back the confidence that a generation of woolly thinking has eroded.

'You say "don't do this", "you mustn't do that", and you gently slap them if they do transgress, and there is nothing wrong with that as long as it is done with love and with firm discipline within the family set-up.

Dr. George Carey, Archbishop of Canterbury

 

About the author

ANNE DAVIS

trained as a teacher and taught until the first of her three daughters was born, when she decided that she would prefer to be at home with her. To supplement the family income she qualified as a registered child-minder, and she was at the centre of a storm of controversy when she refused to promise never to smack a child in her care. She was struck off her Local Authority's register, but took them to court and won her case. She is now the spokesperson for Families for Discipline, an organisation which seeks to preserve the freedom of parents to use reasonable physical discipline.

This book can be ordered from

Webmaster

Price 290 SEK incl. postage (Sweden)

 
STRAFF UTAN BROTT
Av Siv Westerberg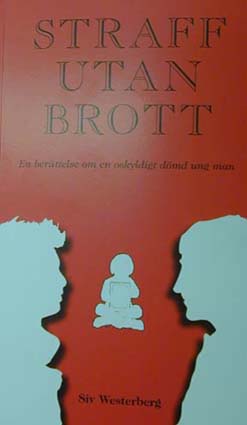 En dokumentärroman har utkommit som skildrar de katastrofala följderna av sociala myndigheters tvångsomhändertagande av ett litet barn
STRAFF UTAN BROTT av Siv Westerberg
En ung man, skötsam och tidigare ostraffad, åtalades och dömdes till ett långt fängelsestraff för ett brott som han inte begått.
Dömdes mot sitt nekande trots att det inte finns så mycket som ett hårstrå i bevis för att han skulle vara gärningsmannen.
Dömdes fastan den påstådda gärningen i själva verket inte ens var något brott.
Det inträffade visar på sanningen i uttrycket att "bakom flertalet justitiemord ligger en medicinsk feldiagnos".
Händelserna i boken visar också på hur rättslöst ett barn blir när det tvångsomhändertas av sociala myndigheter. Barnets föräldrar förlorar rätten att ta ansvar för barnet. Istället pulvriseras ansvaret för vad som sker – eller inte sker – med barnet mellan en rad olika tjänstemän inom socialvård, sjukvård och rättsväsende. Med resultat att ingen tar något personligt ansvar för barnet vilket leder till en katastrof för barnet.  Berättelsen i boken bygger på verkliga händelser som inträffat i Skåne i början på 1990-talet.
Förlag: CKM ISBN 91-7040-031-8
Boken kan beställas från
CKM,
Box
49
109,100 28
Stockholm
Tel. 08-651 39 70. Fax 08-651 39 71
Den här e-postadressen skyddas mot spambots. Du måste tillåta JavaScript för att se den.
Pris 119 kr inklusive moms och porto
Recension. Straff utan brott
Av Madeleine Karlin
Straff utan brott. Marianne Haslev Skånlands tal till Siv Westerberg
Livsglad og vital svensk advokat på 72 år, ger ut sin andra bok
Av Jan Hansen