Presentation Lifetime Awardees 2015

Laureate
Lifetime Achievement Award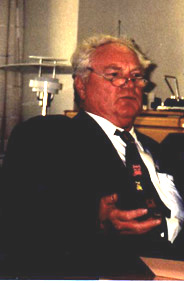 Lennart Hane, Human Rights Campaigner
Born 27 April 1931, deceased International Human Rights Day, 10 december 2010
Everyone who works with, and who are committed to, Human Rights issues know Attorney Lennart Hane, Sweden's "Perry Mason"

Lennart Hane was a member of the NCHR, he was NCHR's auditor from 2003 until his death, and between 1999-2002 he was our deputy auditor.

Lennart Hane lectured at several of the NCHR's Symposia. All his lectures are recorded on tape, but we have not had the resources to publish them on our website. However, there are many of Lennart Hane's articles on human rights - or rather the lack of human rights - in Sweden to be found on the NCHR's website. His clear analysis of the Swedish political system with its totalitarian character and its nationalization of the family as well as his criticism of the Swedish legal system have not escaped influencing everyone who has a sense of right and justice and human rights.

Lennart Hane has also contributed to revealing the huge industry that has been built up in Sweden around the taking of children from their parents and placing them in compulsory foster care . For those of you who do not know this side of Lennart Hanes activities, I want to welcome you all to read his account "Teenage Rebellion in the social state" the NCHR's website.

Lennart Hane is survived by his wife, Ms Gunilla Hane and his son, John Hane, lawyer.

Attorney John Hane's presentation of his father, Lennart Hane
My father, Lennart, had as you probably know, teenage parents, and as a result of that he ended up at three years of age at the orphanage where he contracted polio. You can read about growing up in an orphanage in Sweden in the 1930's for example in Hugo Hegeland's brilliant book, "Orphans". It is no exaggeration to say that Lennart had a unique experience of "the good will" of contemporary institutions that were said to replace parents, which may also not all times is distinct from today's system with foster care placements and other public care of children. As a consequence of his experiences, he was one of those who at an early stage discovered - and criticized - the downsides of concepts such as "children's rights" and the explosion of the number of children and young people that were being placed in compulsory foster care in the early 1980s. It was then that he published a debate publication entitled "Nationalisation of our children", he successfully litigated several cases of violations of the right to family life in the European Commission and the European Court of Human Rights and he was also, together with Brita Sundberg-Weitman, one of the Swedish "dissidents" in widely acclaimed article "Kinder Gulag im Sozialstaat Schweden" that Der Spiegel published at the time. All this I think is well known to you and the NCHR.

During the last six months of his life, he said several times that he believed the Quick Case would be the next major legal scandal in Sweden. He was right beyond the shadow of a doubt. Today, when we read Dan Josefsson's further development of Hannes Råstam's work "The man who stopped lying" about the Quick Case and its sharp indictment of the Swedish legal system's inability to critically scrutinize already deeply controversial, not to say antiquated psychoanalytic theories, or Maciej Zaremba's important series of articles about the social workers possibility to influence court rulings in matters of custody and access, one might say that time has begun to catch up with Lennart. What was utterly politically incorrect and controversial in the early 1980s, is beginning slowly but surely to become universal truth. He would no doubt have appreciated getting the chance to experience it.
Laureate
Lifetime Achievement Award


Hannes Råstam, Human Rights Campaigner
Born 27 June 1955, died 12 January 2012


Hannes Råstam is known not only in Sweden but also around the world, as a deep-digging investigative journalist and successful musician. He worked at Swedish Television where he profiled himself as investigative journalist in programs like "Striptease" and "Mission Review".

He was awarded the Great Journalism Award, 1998, together with Janne Josefsson for their investigation of Osmo Vallo's death. In 2005 he received Lukas Bonnier's Great Journalist Prize for "long and distinguished journalistic work".


On 19 November 2004, the NCHR sent a "Thank You" letter and a diploma Hannes Råstam for the Mission Review documentary on "The Ulf Case" and "Ekbacken's treatment center", where he "in the reportage of February 3, 2004, and November 9, 2004, respectively, in a commendable way demonstrated how vulnerable people easily become victims of various violations of their rights and unnecessary, harmful and questionable interventions by the authorities."

Hannes Råstam is survived by two daughters and a son.

Books: The case of Thomas Qvick: to create a serial killer, (Fallet Thomas Qvick: att skapa en seriemördare), The Excavator's Will: A report on Hannes Råstam published in the Filter magazine, (Grävarens testamente: Ett reportage om Hannes Råstam ur magasinet Filter)

For more information please see: https://en.wikipedia.org/wiki/Hannes_R%C3%A5stam
Laureate
Lifetime Achievement Award


Lena Hellblom Sjögren, Human Rights Campaigner
Ph.D., leg. PsychologistLena Hellblom Sjögren is often appointed to investigate custody cases and to analyse investigations produced by the social services in child-care cases, and also cases of alleged sexual abuse of children. Lena Hellblom Sjögren has also researched numerous cases of Parental Alienation Syndrome - a syndrome that often occurs in custody disputes and which is internationally regarded as serious child abuse. She has found that the social services also act as alienators of children and parents in public care cases.

Lena Hellblom Sjogren has been a lecturer at several of the NCHR's Symposia. All her lectures have been recorded on tape, but we have not had the resources to publish them on our website. However, there are many of Lena Hellblom Sjögren's articles on human rights - or rather the lack of human rights - in Sweden to be found on the NCHR's website.


Lena Hellblom Sjögren has written the book "The child's right to family life. 25 Swedish case studies about parental alienation," after which she became a victim of persecution by the union of psychologists.


Lena Hellblom Sjögren is recently widowed after Bo Sjögren, who died on July 14, 2015.
She is the mother of four children.
Please read: Dangerous mother, or mother claimed to be dangerous? (Farlig, eller farliggjord mamma?) (Google Translate)
Read also: The Association Psychologists is forced to recognize political wheeling and dealing(Psykologförbundet tvingas erkänna politiskt mygel) (Google Translate)

Laureate
Lifetime Achievement Award

Maciej Zaremba, Human Rights Campaigner

Maciej Zaremba is a famous journalist at the Swedish newspaper "The Day's News" (Dagens Nyheter). He was born on 12 March 1951 in Poznan, Poland. Maciej Zaremba has a BA from Stockholm University.
In 2009 the Faculty of Law at Lund University appointed Maciej Zaremba an honorary doctorate. The Faculty stated: "Maciej Zaremba's review of the Swedish legal system is characterized by ingenuity, intellectual independence and a sense of justice. His articles have given rise to several important debates, and he has repeatedly drawn attention to abuses that others have missed. Through his work as a journalist and author, Zaremba has made valuable contributions to the public debate on the rule of law and justice, a debate which must always take place in a state of law."
Maciej Zaremba has been a journalist at Dagens Nyheter's culture editorial board since 1989. He has written acclaimed stories such as "The unmerciful Samaritan" (Den obarmhärtige samariten), (1992), "Why did Daniel age 14, die?", (Varför dog Daniel, 14 år?) (1993), and the series "Justice demons", (Rättvisans demoner), (2015), in which he shows how the social workers manipulate the courts both in custody disputes and in compulsory care cases.

Maciej Zaremba has been awarded numerous prizes for his journalism.

Maciej Zaremba is married to Professor Agneta Pleijel.

For more information please see: https://en.wikipedia.org/wiki/Maciej_Zaremba