INFANT DISCOVERED IN BARN, CHILD PROTECTIVE SERVICES LAUNCH PROBE
Nazareth Carpenter Being Held On Charges Involving Underage Mother
Author unknown.

This article was sent as a Christmas greeting to the NCHR in 2005 by Diane Booth, an American mother who, together with her young son Vincent, sought asylum in Canada.

The article is also published on "The world as I see it" and "Baptist Watch". The NCHR has republished it every Christmas, for the reading pleasure of our visitors.
BETHLEHEM, JUDEA - Authorities were today alerted by a concerned citizen who noticed a family living in a barn. Upon arrival, Family Protective Service personnel, accompanied by police, took into protective care an infant child, who had been wrapped in strips of cloth and placed in a feeding trough by his 14-year old mother, Mary of Nazareth.
During the confrontation, a man identified as Joseph, also of Nazareth, attempted to stop the social workers. Joseph, aided by several local shepherds and some unidentified foreigners, tried to forestall efforts to take the child, but were restrained by the police.
Nordic Committee for Human Rights
wishes all
Merry Christmas & Happy New Year 2014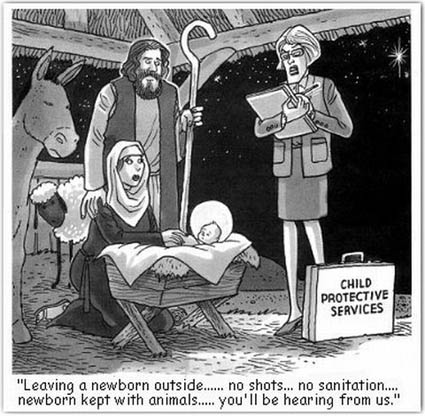 In today's world. What if ....?
We, in the NCHR, deeply regret the suffering caused to all the children who have been taken into care on arbitrary grounds and placed in foster homes or institutions. We also extend our sympathy to their parents and relatives.

Christmas time is Family time.

However, during the Christmas season, the social services in the Nordic countries almost systematically refuse contact between the children in public care and their families.


Sincere Christmas Greetings

Ruby Harrold-Claesson
President.


Infant Discovered In Barn, Child Protective Services Launch Probe
Nazareth Carpenter Being Held On Charges Involving Underage Mother
Author unknown

Return
The NCHR Celebrates Human Rights Day - 10 December, 2013

65 Years of Human Rights - 1948 - 2013.


The Universal Declaration of Human Rights commemorates its 65th Anniversary on Human Rights Day, 10 December 2013.
It was on December 10, 1948, the United Nations General Assembly adopted the Universal Declaration of Human Rights, UDHR, which has become the universal standard for defending and promoting Human Rights.


The NCHR Celebrates Human Rights Day - 10 December, 2013
The NCHR's Lifetime Achievement Award to co-founder Siv Westerberg and posthumously to her husband Dr. Per Westerberg
Mr and Mrs Westerberg are, and have been, two very strong personalities who have supported each other and have become a part of European legal history.
They have resided and exercised their professions in Gothenburg. Throughout the years they have endured much adversity but their strong ties to each other helped them to weather the storms.
INVITATION - The Great Child Protection Evening
Tampere main library Metso, Pirkankatu 2, Tampere, Finland
13.12. 2013 18.00–20.00.
How is it that child protection has transformed itself to social control and a business of billions of Euros? – non-fiction authors Leeni Ikonen, Marleena Kajaste and Maria Syvälä (Radium-Kirjat) would like to see a total renewal of the children protection services.
Finns are becoming skeptical over the Finnish Child Protection practices and the expanding Foster Home Industry. Three non-fiction authors have investigated why.
This Report was made by 32 Nordic Law professionals.
Since the beginning of the 20th Century, Sweden and the Nordic countries all have laws which give the social welfare authorities the power to forcibly remove children from the care of their parents - on what appears to be arbitrary grounds - and place them in foster homes, or institutions, among total strangers. From 1920 to the present day, more than 300 000 children in Sweden have been removed from their homes and placed in compulsory foster care.

The statistics for Norway, Finland and Denmark are a little lower.

Read the Summary:


Summary. Report to the Council of Europe - Child Removal Cases in Sweden and the Nordic countries

Read the Report:

Report to the Council of Europe - Child Removal Cases in Sweden and the Nordic countries
Read the Council of Europe Reply


Reply from The Council of Europe