SAMMANFATTNINGAR, INFORMATION OCH REKOMMENDATIONER
Petition nr 2434/2014
Upptagande till sakprövning och åtgärd

Ordförandens rekommendationer om prövningstillstånd och åtgärder kommer att anses vara antagna om inga synpunkter inkommit före den 14 juli 2015.
ROUNDTABLE

The Best Interests of Children: Have they been well served in Europe?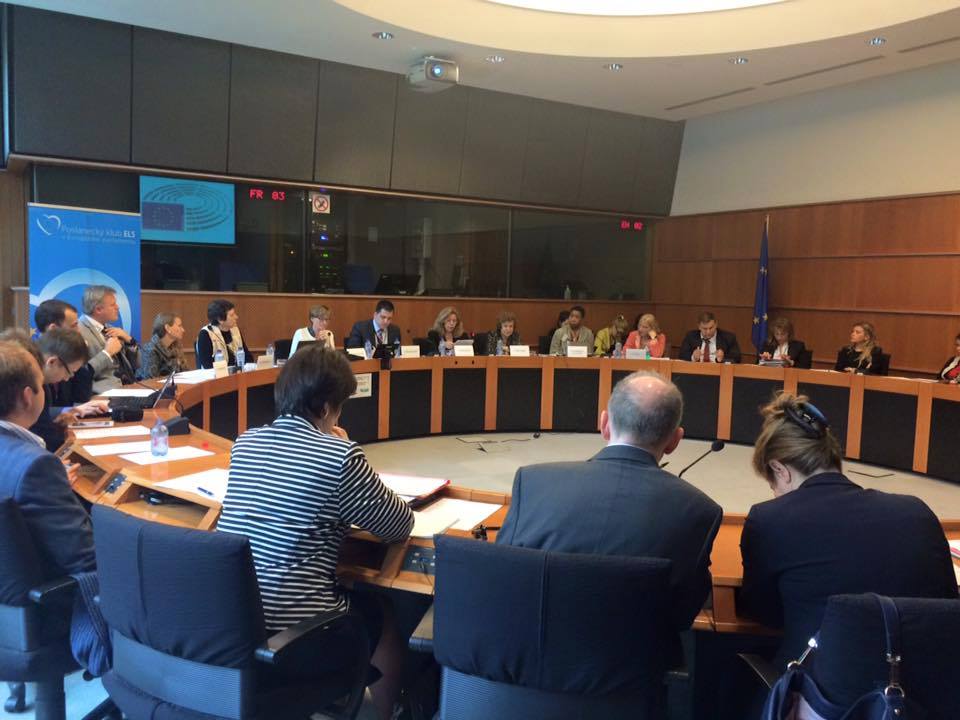 Venue: European Parliament, Brussels, June 2, 2015


The Roundtable is divided into two blocks. The first block will be between 11.00-12.00 and will focus on the child protection systems across Europe, the way they take children and the measures that should be developed to prevent this from happening.
The second block would be then from 12.00-13.00 and it will concentrate on the topic of forced adoption and the way this issue could be addressed on the European level.
The seminar and Q&A session that will be included in each block will be hosted by MEP Tomas Zdechovský and he will also sum up the outcomes of the seminar in the last 10 minutes (12.50-13.00).


When is it ok to remove a child from her or his birth family?
"Children have the right to be protected from all types of violence, abuse and neglect. But children also have the right not to be separated from their parents against their will, except when the competent authorities determine that such separation is necessary for the best interests of the child," Olga Borzova (Russia, NR) says in her report, adopted yesterday by PACE's Committee on Social Affairs, Health and Sustainable Development.

Interview following Ms Olga BORZOVA's, Russian Federation, Report to PACE, Parliamentary Assembly of the Council of Europe
January 26, 2015

International Conference on Child Protection System: Whether The State Will Take Over The Parental Role?

The conference aims to share experiences, insights, and expectations of the protection of children's rights and government support for the family in the Nordic countries, Denmark, the UK, Australia and Lithuania.
Conference Chair - Vytautas Budnikas, leader of Lithuanian Organisation for Human Rights.
Vilnius, Lithuania, February 20, 2014
Invitation for the International Conference in Lithuania

Satsa på familjehemmen - en fungerande vårdform eller Satsa på familjen - den bästa vårdformen!

Av Siv Westerberg och Ruby Harrold-Claesson
Göteborg, den 7 oktober 2015.



Jur kand, med. lic Siv Westerberg är som bekant grundare av NKMR, och jur kand Ruby Harrold-Claesson är ordf. i NKMR.

Artikeln nedan, som hade titeln "Satsa på familjen - den bästa vårdformen!", är skriven som replik på ett inlägg i DN-Åsikt 2015-09-17 med rubrik "Satsa på familjehemmen - en fungerande vårdform".

Inlägget skickades till DN-åsikt den 7 oktober 2015, efter telefonsamtal med åsiktsredaktören, Jessica Svensk. Samma dag fick vi ett e-mail:
" Hej!
Vi har en begränsning på att inläggen på DN.Åsikt ska vara runt 3000 tecken. Återkom gärna med en sådan version av repliken.
Tack på förhand.
Med vänlig hälsning,
Jessika Svensk, redaktör DN.Åsikt"

Siv Westerberg och jag bantade vår replik till 3400 tecken och skickade den tillbaka till DN-Åsikt.

Den 8 oktober 2015 fick vi ett e-mail:
"Hej,
Vi tackar nej till att publicera er replik.
Med vänlig hälsning,
Åsiktsredaktionen
Artikeln blev refuserad av DN:s åsiktsredaktör, men NKMR har sin egen hemsida, där vi kan publicera vår replik.


I DN-åsikt den 17 september 2015 finns en inlaga med rubriken "Satsa på familjehemmen – en fungerande vårdform". Den är skriven av Johan Schött som "sedan närmare tio år är verksam som jourhem och familjehem i Stockholm". Han inleder sin inlaga med uppmaningen: "Förbättra och förenkla villkoren för familjehemmen och jourhemmen så att fler familjer vågar åta sig uppdraget att ta emot ett barn eller ungdom som behöver ett hem och en familj. Ingen annan vårdform ger så bra resultat och ingen annan vårdform är mer lämpad för uppgiften." Det är dock konstaterat att fosterhemssystemet är behäftat med stora problem. I artikelserien "Ekonomisk brottslighet inom fosterhemsindustrin", den 22/6 2004, publicerade reportrarna Bo Göran Bodin och Nuri Kino på Sveriges Radios Ekoredaktion, en granskning som visar att det förekommer omfattande ekonomisk brottslighet bland dem som bedriver familjehem. Reportrarna konstaterade också att, "det är betydligt svårare att öppna en korvkiosk än ett fosterhem eller HVB-hem."


Over 50 Russian mothers have child custody problems in Finland
Finland has already created child custody problems for more than 50 Russian mothers.
Voice of Russia, RIA, Jan 23, 2013
Russian children's rights Ombudsman Pavel Astakhov wrote this in his Twitter account Wednesday after Finnish social services seized 6-year-old twins from the Russian national Svetlana Karelina, when she brought them to Finland for a meeting with their father, who is her former husband.
Mr Astakshov urged Finland to comply with civilized norms in child custody matters.

DOCUMENTARY. Not without my children. English version
This is a real story – this is a case of Ivana Boorova. A woman from the west part of Slovakia, country in the heart of Europe. She loves her children more than her own life. However the foreign country and its government took them from her because of a fictional allegations of a child abuse. They had moved to Great Britain to see the world, learn a foreign language and earn some money. Like any other Slovak. But her hopes and ideas failed...
Russia reports compulsory care of children to the Council of Europe
By Ruby Harrold-Claesson, lawyer
Göteborg, October 6, 2012.

The Russian delegation at the General Assembly at Council of Europe (PACE) intends to address the issue of the social services in the EU countries' abuse of power in cases concerning compulsory care of children.

Russia is now collecting signatures in order to address the issue.